The History Of  The Fajita
The first serious study of the history of fajitas was done in 1984 by Homero Recio as part of his graduate work in animal science at Texas A&M. Recio was intrigued by a spike in the retail price of skirt steak, and that sparked his research into the dish that took the once humble skirt steak from throwaway cut to menu star. Recio found anecdotal evidence describing the cut of meat, the cooking style (directly on a campfire or on a grill), and the Spanish nickname going back as far as the 1930s in the ranch lands of South and West Texas. During cattle roundups, beef was butchered regularly to feed the hands. Throwaway items such as the hide, the head, the entrails, and meat trimmings such as skirt were given to the Mexican vaqueros (cowboys) as part of their pay. Hearty border dishes like barbacoa de cabeza (head barbecue), menudo (tripe stew), and fajitas/arracheras (grilled skirt steak) have their roots in this practice. Fifth-generation McAllen rancher and cookbook author Melissa Guerra heard very similar stories in researching her first cookbook, The Texas Provincial Kitchen, and her upcoming work, Dishes of the Wild Horse Desert. Considering the limited number of skirts per carcass and the fact the meat wasn't available commercially, the fajita tradition remained regional and relatively obscure for many years, probably only familiar to vaqueros, butchers, and their families.
Original Article can be found here.
Many people including myself love fajitas, just like any of your favorite foods you can totally veganize it. All you do is replace the animal product and use a plant with a similar texture. In this portobello fajita recipe,  you guessed it You use portobello mushrooms. As you can see by the picture this portobello fajita looks like portobello fajita steak strips. I bet you can fool the average meat eater, trust me they won't know the difference (hehe, Chuckles to self)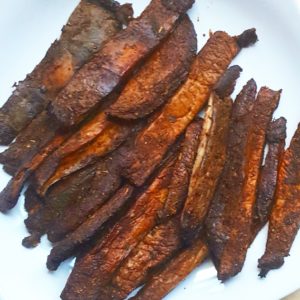 First, you make the season then follow up with the mushrooms. Throw away the packet of unrecognizable ingredients that's loaded with sodium, msg plus other man-made chemicals.  I have two video the will show you step by step how to make this delicious entree the whole family will enjoy.
Portobello Fajita Season Recipe:
1Tablespoon oregano
1 Tablespoon chili powder
1 Teaspoon pink Himalayan salt
1 Teaspoon of paprika
1 Tablespoon black pepper
1 Tablespoon onion powder
1 Tablespoon garlic powder
1 Tablespoon cumin
1 Teaspoon cayenne pepper (optional)
Mix well and store in an air tight container.