I have a super simple recipe for you guys, I'll show you how to make a tropical post-workout smoothie. It's  simple yet hydrating and delicious. This smoothie is great not just after a workout, this will also work for scorching hot summer days when you're sweating bullets and then some.
💦Coconut water replenishes your body better than water after a strenuous workout. Coconut water offers fifteen times more potassium—it contains about 470 milligrams per 8 ounces—than Gatorade or Powerade.
coconut water also contains high levels of disease-fighting antioxidants.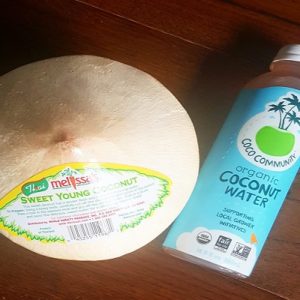 🍍Pineapples contain anti-inflammatory enzymes called bromelain that can help soothe muscles after a workout
Chia seeds pack a punch of energy-boosting power, they are loaded with fiber, protein, Omega-3 fatty acids and various micronutrients. Chia seeds contain essential fatty acids alpha-linolenic and linoleic acid; mucin; strontium' vitamins A, B, E and D; and minerals, including sulfur, iron, iodine, magnesium, manganese, niacin and thiamine; and they're a rich source of antioxidants.
🍓 Strawberries and mango contain vitamin c which helps absorbs iron as well as other micro nutrients. They are also rich in fiber, and particularly high levels of antioxidants known as polyphenols plus these berries are 100% sodium-free.
Keep in mind this recipe isn't written in stone, you can change it up if you like… instead of strawberries, you can add blueberries or instead of pineapple you can add a banana. Remeber it's your smoothie.
Smoothie Recipe:
2 Cups Coconut water
1/2 Cup Pine apple
1 Tbsp Chia seeds
1/2 Cup Strawberries
1/2 Cup Mango
Blend and Enjoy!