PIZZA—ONE OF AMERICA'S TOP 10 FAVORITE FOODS GET'S A MAKEOVER AND FINDS NEW LOVERS
It should not come as a shock or be the least bit surprising that pizza is one of America's Top 10 Favorite Foods. If there is an "ooh-wee!" factor about it being highly ranked, for many it would be the fact that it's not #1.
It becomes abundantly clear why the Cow in the Chik-Fila advisements is pleading with us all to eat more chicken instead of beef (besides the obvious which is to increase product sales for chicken on steroids like profits). Reports show there are enough hamburgers consumed by Americans each year to circle the earth 32 times. Huh?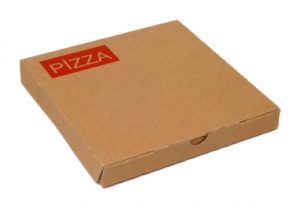 Yep, that's because the average American consumes at least three hamburgers each week, for life…not I! Personally, I will remain among the pizza-faithful contributing to 100 acres of pizza consumption each day at a whopping 350 slices per second. Only, I will do this in a way that is healthy enough for vegans and vegetarians, yet, tasty and flavorful for enough for maniacal, pizza loving-junk food junkies…can you say delectably delicious green pizza?
Now, before we go any further and before your gag-reflex kicks in, there are a few things you should know. Growing up in neighboring Brooklyn to one of two Pizza Capitols of the world, NYC. Yes, Chicago is credited as being the first city in America to receive an introduction to Italian pizza by way of street peddlers in the early 1900s. Yet, the 1970s and early 90s found me engaged in a little self -serving 'eat-peddling" at the corner pizzeria.
How can I ever forget that awesome smell of baking dough, herbs, spices, cheese, tomato sauce, sausage, you name it? The way that oily cheese would pull away from the dough when taking my first bite would regrettably make me wish that I didn't have to take my last bite…Yes, Chicago may have been the first to go all in on this Italian food with an ancient and romantic history, yet, I am so thankful for the magic that took place on Spring Street in New York City in 1905. 71 years before I was born in a Brooklyn hospital, Gennaro Lombardi was granted the first American license to bake pizza becoming the first to "legally" open a pizzeria. And yes, I have had my share of pizza all over the state of New York City and in as many cities as I've visited throughout the years…not all Italian pies is created equal.     
Now, as a professional mother, wife, and chef (have to be all three!), I am always experimenting in my stove centered laboratory to recreate that authentic New York City-Brooklyn quality taste with a healthy twist. Okay, do you remember when I mentioned green pizza? Well, I am sure you know I didn't mean the color green, right? Just so we're clear as to what is meant by "green": nutritive, living and all natural ingredients.  It may be difficult to believe a delicious, un-cheesy, un-meaty pizza can taste just as good.  This is exactly what my kids, co-workers, and healthy meal prep clients used to think.
Green, or Living Foods are foods that contain enzymes, the protein based chemical-reaction machines in the cells that are vital for the processes and activities that keep the cells healthy and allow them to grow and reproduce.  Here is the deal: as tasty as the pizza we've all grown to love is—there is NO nutritional value. Period. When food is heated to over 116 degrees Fahrenheit, enzymes in the food are destroyed. Enzymes are far too important for us to trade off proper nutrition and well-being for a super tongue pleasing bite of pizza or any other food. Enzymes are complex, specialized proteins that can only be gained from raw foods and are essential for digestion to daily bone and tissue maintenance.
So, doesn't it make sense to marry the best of both pizza worlds? Well, kind of…the crust is made with sprouted spelt berries, herbs, and olive oil. The pizza sauce is made from delicious sundried tomatoes and the cheese is the tastiest "un-cheese" on the planet, besides Chef TR's Un-Cheesecake™—well, it's not time for desert yet, or is it?  
Now, as for the cheesiness: this is successfully accomplished to your palate's delight by perfectly blending cashews and nutritional yeast. Enough saucy, cheesy, oily pizza was devoured over the years before my healthy/vegan lifestyle change, to both steer and stir you in the direction of total ingredient "substitution satisfaction"…especially the cheese! Yes!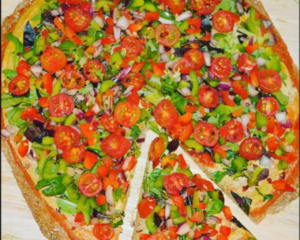 When I (and my family) first made the switch to healthy eating, the thought of losing pizza was like mourning a death of sorts. Moving from New York to the South in my teens forced me to find "pizza love" from among the national franchised, commercially crafted pizza restaurants—a long way from the pizzerias that first warmed my heart in New York. Frozen commercial pizza? Don't even think about it!
For a New York City/Brooklyn spoiled, pizza connoisseur: Green/Living pizza has been a game changer with multiple health benefits. For a food that dates back 7,000 years ago I think we've finally found the perfect combination of great taste and health. To join me, please check out the video and recipe below.
Living Pizza Recipe:
Crust
2 Cups Sprouted spelt flour
2 Tbsp dry Italian herb blend
1/2 Cup spring water
1 Tsp Himalayan salt
2 Tbsp Evoo
Marinara Sauce 
1 Cup sun-dried tomatoes
1 Tbsp Garlic infused Evoo (1 clove garlic)
2 Tbsp Dried Italian herbs
1/2 Cup Spring water
Himalayan salt and black pepper to taste
Cheeze Sauce
1 Cup Cashews
1 Tbsp Dry Italian herb blend
1/2 Cup Spring water or as needed
1 Tsp Evoo
1 Clove of garlic
Himalayan salt  and pepper to taste
Toppings
Two handfuls of spring mix
1/2 Red onion
1/2 Red bell pepper
1/2 Green bell pepper
Cherry tomatoes
Sprinkle of red pepper flakes
*Actually you can add any topping of your choice (just make sure it's raw)*
***If you do not have a dehydrator you can use your oven at the lowest temp possible.***
Additionally to learn some fun facts about pizza please check out the following links:
http://visual.ly/top-10-americas-favorite-foods
https://en.wikipedia.org/wiki/History_of_pizza
http://ezinearticles.com/?The-History-of-Pizza-and-the-First-Frozen-Pizza-in-America&id=7253896